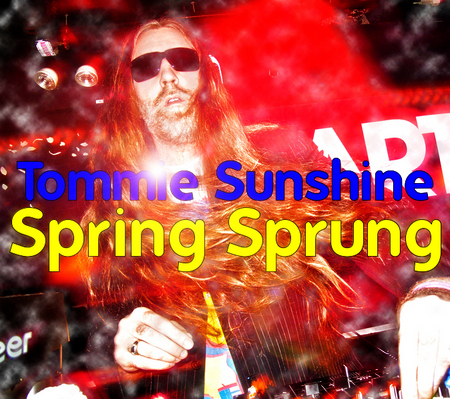 Spring has Sprung!! Enough of photos of Deadmau5 and those dastardly tan aussies in their summertime! Here is a lovely little mix dropped off to us by Tommie Sunshine!
1408's favourite of the mix is easily, EASILY Moby - The Day (Lifelike Remix). And thank god Lifelike have popped up on our radar again, because we love what they do!
Tommie Sunshine – 'Spring Sprung' DJ Mix
Grab your copy for free download:
here
and click 'Read more' for the tracklist!!
1. Shinichi Osawa feat. Tommie Sunshine - Love Will Guide You
2. TWR72 – Future Tool
3. Evil Nine - It's You
4. Cassius – Les Enfants [Gesaffelstein Remix]
5. Moby - The Day [Lifelike Remix]
6. Afrojack – Bubblegum
7. Bob Sinclar - Fuck The Disco
8. Green Velvet - Flash [Nicky Romero Remix]
9. MyBack (Albin Myers, John Dahlback) - Clap Yo Handz
10. Bart B More – Traction
11. 2 Guys In Venice – Polizei
12. Codes – God Bless
13. Crookers Pres. Dr. Gonzo feat. Neoteric & Wax Motif – Springer
14. Fuser – Bangtuk
15. Crookers Pres. Dr. Gonzo feat. Savage Skulls – Bust 'Em Up
16. Berou & Canblaster - Kapongo Dance [Congorock Remix]
17. Brodinski – Manifesto
18. Felix Cartal – The Joker
19. Fat & Ugly - Elephant Attack
20. Gigi Barocco feat. Jane Bang - Crunk It [Tom Deluxx Remix]
21. Punks Jump Up - Blockhead [Hey Today! Remix]
22. Bart B More & Tommie Sunshine – Drop Acid
23. King Cosmic — Acid (In My Soul) [Kink remix/Snuff Crew Edit]
24. Shinichi Osawa – Love Will Guide You feat. Tommie Sunshine [Edwin Van Cleef Remix]