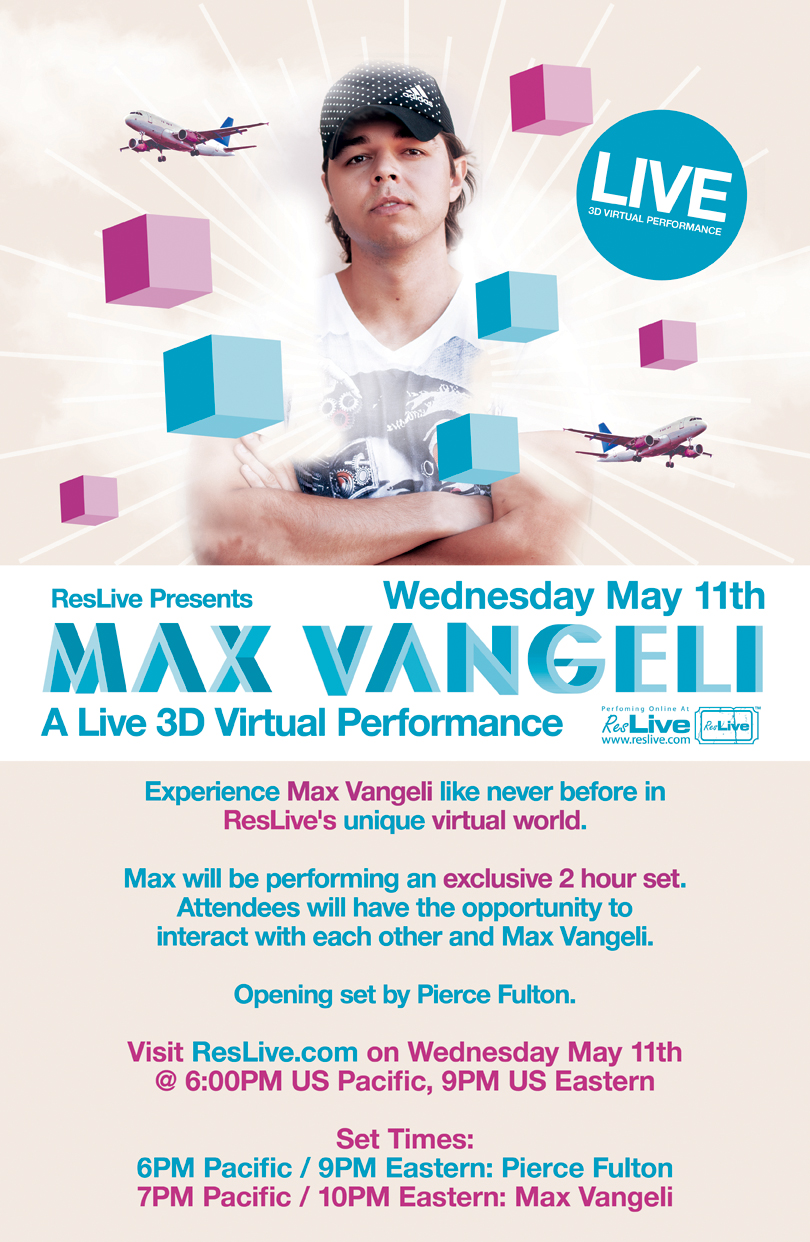 We found this a very interesting concept indeed!
Using ResLive, a 3D virtual world, we were treated to live sets from Max Vangeli and a warmup set from Pierce Fulton. Max was kind enough to wander around the arenas and chat to the users, which was a great way to connect with his followers!
.

ResLive, although still in beta, will be a big mover for online music. The concept is for the whole virtual world to be built around live music and the ability to share that music with everyone easily. What interested Max was that is a brilliant way for his followers under 21 (US drinking age) to be able to hear him perform live.
Max Vangeli ResLive Virtual Performance
Pierce Fulton ResLive Opening Set for Max Vangeli, May 11th 2011
Click 'Read more' for both tracklists
Max Vangeli's live set from ResLive Virtual Performance
01. NiCe7 - Point (Original Mix)
02. Marco Bailey - Rubber Band (Original Mix)
03. Tune Brothers & Plastik Funk - Groovy Baby (Hard Rock Sofa Remix)
04. Deniz Koyu vs. Deadmau5 - Open Your What We Are (Laidback Luke Edit)
05. Daddy's Groove & Little Mark - We Are In Da House (Original Mix)
06. Swanky Tunes & Hard Rock Sofa - Smolengrad (Original Mix)
07. Promise Land - Heaven (Miami 305 Mix)
08. Pendulum - The Island (Steve Angello, AN21 & Max Vangeli Remix)
09. Louie Vega & Jay 'Sinster' Sealee ft. Julie McKnight - Diamond Life (Daddy's Groove Magic Island Rework)
10. Max Vangeli & AN21 - Swedish Beauty (Original Mix)
11. Max Vangeli ft. Max C - Look Into Your Heart (Carl Louis & Martin Danielle Remix)
12. Max Vangeli & AN21 vs. Swedish House Mafia - Nothing Better vs. Miami (Max Vangeli Booty)
13. Tommy Trash vs. Hard Rock Sofa & Swanky Tunes - Select Start (Max Vangeli Booty)
14. Tim Mason - The Moment (Original Mix)
15. Swanky Tunes & Hard Rock Sofa vs. Moguai - Steam Gun Wants Your Soul (Max Vangeli Booty)
16. Arno Cost - Lise (Max Vangeli Edit)
17. Prodigy - Smack My Bitch Up (AN21 & Max Vangeli Booty)
18. Above & Beyond - Sun & Moon (Kim Fai Remix)
19. Eye Emma Jedi - Lights (Carl Louis & Martin Danielle Remix)
20. Gorillaz vs. Steve Angello & Alex Metric - Open Your Melancholy Eyes (Max Vangeli Booty)
21. Eric Prydz - Niton [The Reason] (Club Mix)
22. Switchfoot - Always Yours (Max Vangeli & AN21 Remix)
23. Coldplay vs. MGMT vs. Salem Al Fakir - Kids Are True In Technicolor (Carl Louis & Martin Danielle Remix)
Pierce Fulton's live set from ResLive Virtual Performance
01. Matt Lange - Rift (Andrew Bayer Remix)
02. Komytea - Soldiers Of Karkadu (Original Mix)
03. Solarity - Corvette (Original Mix)
04. Stephen J. Kroos - Encode (Original Mix)
05. Oceanlab - Miracle (Michael Cassette Remix)
06. Dinka - Constant Sorrow (Original Mix)
07. Dinka - Violet (ID Remix)
08. Soundprank - Bushido (Original Mix)